Asian Dating: Messages that work
If you're thinking about the Asian dating scene and are worried about how to approach beautiful Asian singles that you find attractive then there is no need to be nervous. Like all of the ladies on our online dating site, everyone is looking for love and that special person to spend the rest of their lives with. The concept of Asian dating might seem daunting at first but they're just Asian singles who have expressed an interest and attraction towards Western men.
If you're on an Asian dating site like ours and spot someone who truly takes your breath away you want to ensure that you make the best first impression in order for the lady to reply to you. How you approach the concept of talking to Asian ladies and building communication can be different from walking up to a lady in a bar and talking to her.
Reason To Talk To You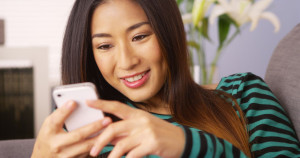 When you first message Asian singles you need to give her an excuse and reason to talk to you. Simply messaging a 'Hi' isn't overly inspiring and doesn't show that you have put in the effort or imagination into your message. First impressions are incredibly important so make sure your message catches the Asian Single's eye. Beginning your message with a question is always a good start because it requires a direct answer, but keeping your question open rather than closed will be a great conversation starter. Perhaps ask her about her homeland and whether she's always lived there.
Remain Humble In Asian Dating
When on Asian dating and Asian Singles websites you do want to sell yourself as a person but you need to remain humble. You might be a confident man who is sure of himself but sometimes selling yourself like this can make you come across as cocky. Some Asian singles like Western ladies are attracted to alpha males but don't push this across too much when you first message.
Family Matters
Ask questions about her family and the important people in her life. Asian singles are generally very close with their families and are fiercely protective so showing your interest and being open to eventually step into their social circle and get to know the people closest to her will show a lot about yourself as a person. When Asian singles talk about their family you should speak about yours as showing you are a family man is a very attractive quality.
Ask About Her Culture In Asian Dating
To be successful with Asian dating you should respectfully learn about her culture when you learn things about her. You shouldn't assume that all Asian Singles have the same heritage and cultural beliefs so each woman you speak to might be different or embrace different traditions. If you discover aspects of her culture, lifestyle, or habits that you are not previously familiar with asking her about them. Having a genuine interest in learning about Asian ladies' lifestyles in a supportive and respectful way is a great way of connecting on a deeper level with her.
Careful With Ethnicity
You might find Asian women more attractive than other cultures but do not explicitly mention this, especially during your first communication. Talking specifically about their ethnicity can be deemed as inappropriate to some people, for example, you wouldn't want a lady to hit on you by saying 'You know what I really love, white men!' so the same goes for the other way around.
Asian dating does not need to be hard if you put the effort into your messages rather than sending a blanket message to multiple women. Take the time to do your research, ask questions and be attentive. You never know it could lead to a lot more in the future.