Peach Blossom Be The Love Symbol For Chinese Women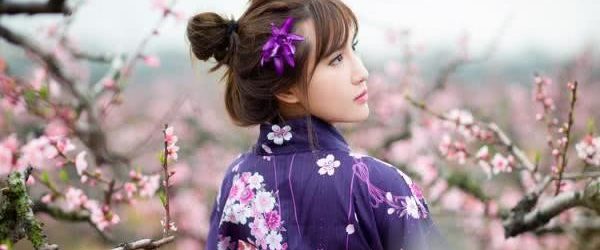 If you've dated Chinese women before then you probably already know that there is a lot of symbolism in Chinese culture. Flowers in particular hold a lot of meaning; one of the most romantic being the peach blossom.
Peach blossoms are one of the most popular flowers during springtime. For Chinese women the peach blossom is associated with romance. Blossom is what comes before something even bigger blooms.
The History of Peach Blossom
In ancient Chinese culture people believed that the wood of a peach tree could protect people from evil spirits. Peach kernels have been used in traditional Chinese medicine for centuries as well as being a raw material that's often used in jewellery.
Chinese women believe that there are five king fruits. Each of these fruits have something different to offer and have strong symbolism attached. Of course, peaches are one of the five kind fruits.
With such a rich history for the peach and peach tree, you can see why peach blossom has such links with romance. Peaches have always been seen as an important fruit. So peach blossom represents romance that can bloom into something more important.
Finding Love in Spring Time
Peach trees blossom in Spring, and because of this Spring is seen as the time for romance and is a blessed time to get married. You will often find Chinese women with "Tao" in their names. Tao means peach and a traditional compliment for Chinese women was "tao-sai" which means blossom-like cheeks. If you want to impress your Chinese woman then you should definitely compliment her in this way.
Peach blossoms themselves have inspired a lot of romantic stories and poems over the centuries in Chinese culture. There are stories of love-struck poets being impressed by a graceful lady and deciding to bring her peach blossoms as a token of his affection.
Why Chinese Women Love Peach Blossom
Peach trees are also seen as a sign of longevity. Throughout ancient history, important religious ceremonies were often held among peach trees, partially because of the legends that inspired this. Chinese mythology says that Kua Fu, an ancient giant, wanted to capture the sun so he followed it across the country from East to West. While chasing the sun he became dehydrated and died. But the wooden club he was carrying was made of wood from peach trees. The giant club turned into a vast orchard of peach trees, showing that while nothing lasts forever it can also make way for new and better things.
Today, giving peach blossom is seen as a romantic gesture. One uses peach wood to create jewellery. The peach stones are ground down and used in medicine or as a base material to create jewellery and artwork. If you're looking for a way to impress Chinese women then you should find a way to work peaches into your gift. You can give them peach blossom, peach blossom jewellery or simply something that has peaches on it. Chinese women will definitely appreciate your thoughtfulness.